On sound footing: Listen to progress being made at Watertown police station construction site
Boom boom bang. Beep beep beep.
That is the sound of the new Watertown Police Station being built on Main Street, where the Browne School used to be. The new building will be 40,000 square feet, according to Officer Lloyd Burke, and two stories high. The 75-year-old police station in Watertown Square is too small, he said.
The new building costs $13 million and will be done next spring, if there aren't any problems.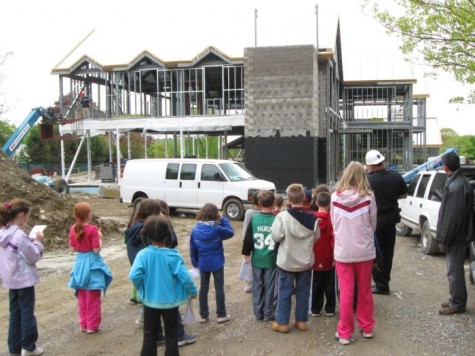 "Boom boom bang'' is the sound of cranes working outside, lifting and carrying cement drain pipes.
"Beep beep beep'' is the sound of machines backing up and warning people. The site is so loud, people have to yell to talk.
You can see right through the building. The skeleton of the building is done, as well as the basement. In the basement will be men's and women's locker rooms, a shooting range, a workout room, and a storage room.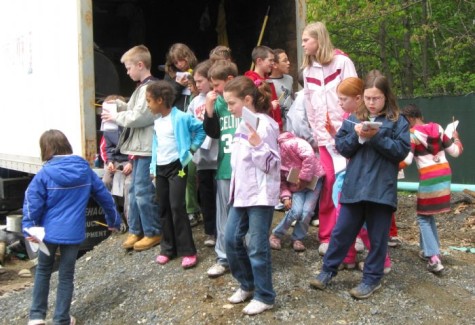 On the first floor, there will be the lobby, community center, jail, and, in the back, a garage.
On the second floor, there will be the captain's and chief's offices and a mechanical room for heating and air conditioning equipment.
Outside the building it's as muddy as ever. There are big piles of rocks. There is lots of metal and floor decking. There are also two wells 1,500 feet deep. The geothermal wells, according to Officer Burke, will use the free-flowing heated water to save money for heating and air conditioning.
"I'm not a science teacher,'' he said, "I just play one on TV."
Fred Hastings is an excavator. He works from 7 a.m. to 3:30 p.m.
"I love my job,'' he said. "It's exciting. It's something different every day."
 (Story reported and written by Cunniff Kids News staff reporters Domenic M., Shannon M., Patrick W., Alexis C., Timmy C., Owen G., Meagan K., Katherine L., Matt M., Tia P., Beth P., Christine S., Renee S., Isabella V., Mairead W., Jack L., Rose M., Renee T., Dyanne B., Sam C., and TJ P.)
(For more information about the new police station, to see other pictures of the site, and to watch video taken during the demolition and construction process, go to http://www.watertownpd.org/new_station/cons_update.html.)
–May 6, 2009–