Boston welcomes world's best figure skaters
A lot went into making the 2016 World Championships happen this week at TD Garden for Gracie Gold, Doug Zeghibe, and Mimi McKinnis
    Do you know what Doug Zeghibe, Mimi McKinnis, and Gracie Gold have in common?
     All three have been skating since they were in elementary school, they have been to the Olympics, and they invite you and 90,000 fans to come to the World Figure Skating Championships right here in Boston this week!
     The World Championships will be decided at TD Garden. The skaters practiced Monday and Tuesday. The men skate their short program Wednesday and their long program Friday. The ladies skate Thursday and Saturday.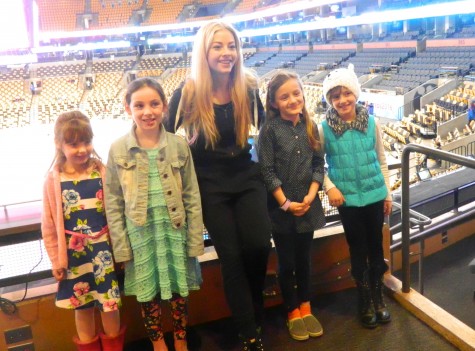 During the practice days, there is a small audience, nothing like when there is a Bruins game. Security checks everyone before they enter.
     On Monday morning at TD Garden, there was singles practice. The boy skaters did not skate with the girl skaters. There were as many as six skaters on the ice at once.
     The lights were all on in the arena and there was classical music playing on the loudspeakers. During a five-minute break, radio music played in the arena.
     The skaters practiced triple spins, high cartwheel-style kicks, and gliding backwards.
     During the warmup part of practice, skaters were gliding and skating fast. They were jumping small jumps and balancing on one leg. The boys seemed to balance more on one leg than the girls did.
     The skaters did not wear costumes for practice or performance make-up or even jewelry. Some of the girls wore skating leotards and others wore black pants and shirts. All of the girls wore their hair pulled back in a ponytail, except for one skater that had a shorter style hair cut.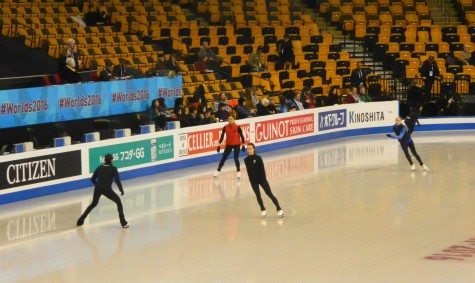 The music at the practice seemed to be in the background. The skaters don't skate to the beat of the music like they would in their actual performance.
     Each skater had a turn to practice with their music, but they didn't get the entire rink to themselves. When it was a skater's turn to practice to their music, they would skate in the middle section of the rink, while the others did tricks around the outside. They were all concentrating very hard.
     One of the competitors from the United States is Gracie Gold, who was born right here in Boston.
     Gracie Gold practiced her long program to "The Firebird" by Igor Stravinsky.
     While watching the practice, you could easily see that Gracie Gold is a very flexible skater when she did her turns and put her leg up, like a dancer's arabesque.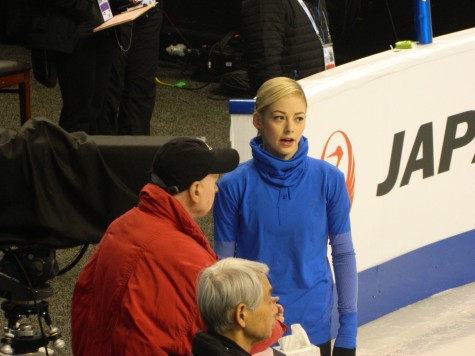 Gracie smiles from ear to ear when she skates and when you meet her in person. She is very nice and friendly.
     "I like this sport and I like to see skaters perform their best," Gracie said.
     The thing that inspired Gracie was she went skating at a birthday party when she was 8 and found out she loved skating.
    She is currently 20 years old. She has a twin sister, Carly.
     Gracie represented the United States at the Olympics in 2014. She came in fourth in the singles and won a bronze in the team event.
     Her favorite jump of all time is the triple lutz. Gracie has set three world records. She has been in the championship three times but hasn't won before and is hoping to win this year.  Last year, she placed fourth, in 2014, she placed fifth, and in 2013, she placed sixth.
     Gracie has won the US national championship twice in 2014 and 2016.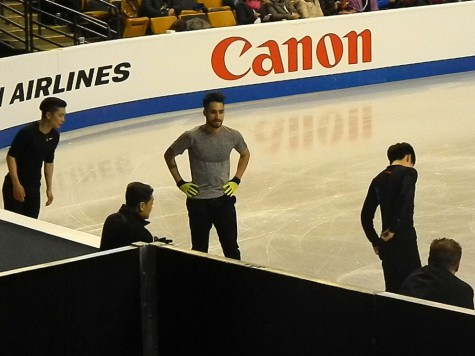 Gracie said she practices three to four hours a day! When Gracie is not skating, she said she enjoys to bake in the kitchen. When Gracie bakes something new, she brings it to her skating practice to share with her fellow skaters and her coaches.
      When you go up high at TD Garden, you can see the whole stadium. If someone were to sit really high for the World Championships, you would be able to see all of the choreography of each skater's program.
     When you sit near the ice, you can see the skaters up close and personal, even their smiles. But you can't see everything in the skater's program because sometimes the skaters are down the other end of the rink so you can't see every move.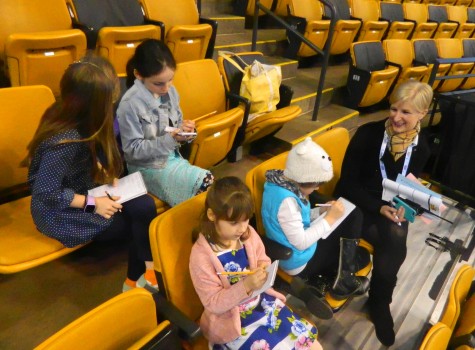 After Gracie finished her practice, she had to talk with reporters from all around the world. Mimi McKinnis is the communications coordinator for US Figure Skating. It was Mimi's job to walk Gracie through TD Garden and bring her to the reporters.
    Mimi began her job in 2012. Before that, she was a competitive ice dancer with Chris Obzansky.
     "It's not scary to be out on the ice," she said. "It's very exciting because it's the biggest event of the year!"
     Mimi lives in Colorado Springs. She likes to take her dog hiking.
     Mimi has competed all around the world. She has skated in Chicago, Canada, the Czech Republic, and Germany. She didn't skate in the Olympics, but she went to the 2014 Olympics in Sochi.
    When she  turned 19, she stopped competing.
     "When I first started skating, I wanted to be in the Olympics," she said. "Then I went to college and studied journalism and got this job, so I made it!"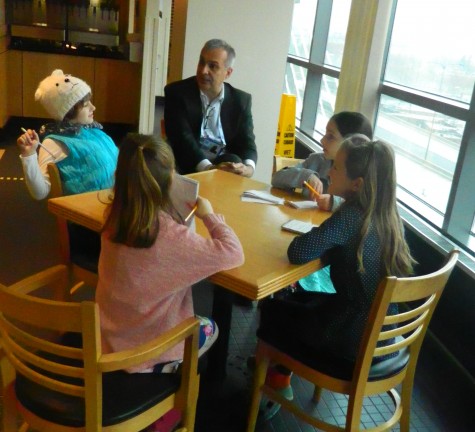 Doug Zeghibe is the executive director of the Skating Club of Boston. He has been working on organizing this competition for two years.
    He said he does it because he loves the sport.
    "These skaters have trained their whole lives for this week," he said. "That's exciting!"
      Doug was 6 years old when he started skating. His mother was a skating coach.
     Doug loves to skate, but he also enjoys dogs, traveling, and sailing. Doug has many good skating friends, including World and Olympic champion Brian Boitano.
  Doug said he speaks a little Spanish and part of his job is to make sure that people have a good time watching other people skate, especially at the World Championships.
     Doug reported that there are over 90,000 people coming into the city for the World Championships this week. Part of his job is to sell tickets and to feed everyone.
     "I make sure the skaters and judges are safe and where they need to be," he said.
     He also is responsible that the ice is made and that costumes get fixed and skates get sharpened.
        He said people were coming from all over the world to see the skating. He said that people would spend $40 million on food and hotel rooms and entertainment.
    This is the first time that the World Championships have ever been to Boston. This is exciting because we are making world history in our own city!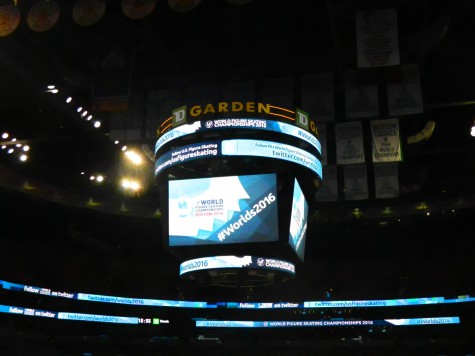 –March 29, 2016–