"Billy Elliot" an uplifting musical at Wheelock Family Theatre
     The musical, "Billy Elliot," is playing in Boston at Wheelock Family Theatre. The show is running until Feb. 26, 2017.
     We would give this show 10 out of 10 stars, and would recommend that many see this show. But this show has some language that is inappropriate. If you take your kids, remind them not to say some of the words!
    The theatre is big and it has comfy red cloth seats. It's easy to see the stage from all seats in this theatre. The concession stand is small, but the food is delicious! It sells jumbo, hot, soft pretzels that are big enough to share and cookies that are good for one person. All snacks were $2. You can also buy apple juice and water and those are $2 as well.
    The show begins with a boy listening to the radio and licking a lollipop. This is how the audience learns when the show is set. In 1984-1985 when money in England was scarce because coal miners were not getting paid enough.
     The audience meets Billy when his father, who is a coal miner, is trying to wake him up for breakfast. He keeps saying he is coming, but he is not really coming because doesn't want to get up. The breakfast looked like toasted bread, but it was really eggs, according to Billy's grandmother who lives with them.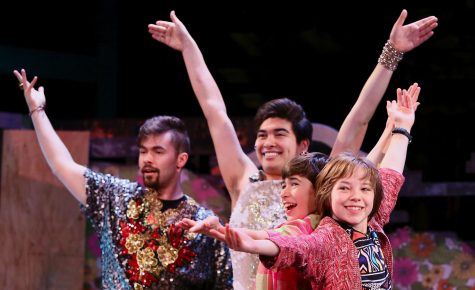 Billy also lives with his older brother, who is also a coal miner. Billy's mother is dead. The Elliots' kitchen looked run down and they don't have many food choices.
    When Billy does get up, his father sends him to a boxing club. Billy doesn't really want to go and when he gets there someone punches him and he falls over. His opponent says, "I'm sorry, Billy," and the coach says, "You don't say, 'Sorry.' Punch him again! Billy, get up!"
    Billy gets up, and the coach gives him the keys so that he can stay late to give them to the dance teacher that is using the space next.
    The dancers come in for their class and they are working on their footwork, but the teacher does not have them focus on the rest of their bodies, so they aren't the most trained dancers.
   The teacher is kind of mean, but also kind of nice. She is mean when she yells at them and she smokes cigarettes while she is teaching. She is mostly nice to Billy, but not at first. Billy is a bad dancer at first, but he really listens to the teacher and improves.
    The audience, the dancers, and his teacher learn Billy is a natural dancer when he does about 10 perfect chaine turns from one side of the stage to the other with a great spot. This is a difficult dance move.
    As the show goes on, Billy starts taking dance classes, but he doesn't tell his brother or his dad. The teacher starts to see that he is a nice boy, he is a good dancer, and she wants him to audition for the Royal Ballet School. You have to see the show to see how this turns out!
    One laugh out loud scene is when Billy goes to his friend's house. His friend, Michael, is trying on his sister's clothes and tells Billy, "My dad does this all the time." We learn later that Michael really likes to wear tutus and dresses. This connects to one of the messages in the show: You can be yourself, no matter what.
     (For more information or to buy tickets for "Billy Elliot: The Musical" at Wheelock Family Theatre, go to https://wheelockfamilytheatre.org/.)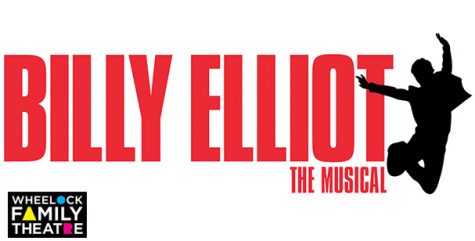 –Feb. 5, 2017–