Take the day off when "Circus 1903" comes to town!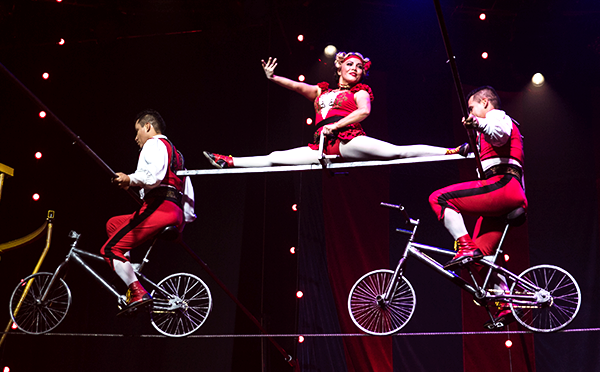 Welcome to The Golden Age of Circus! The play "Circus 1903" is full of circus magic.
"What is "Circus 1903" about?" you may ask when you hear the title.
"Is it a circus?" Yes, well, kind of.
The cast brings you a circus 1903 style, and they have performers from all over. They have acts that you would see in a regular circus. There are acts that make you drop your jaw in awe, and there may be some that make you hold your breath
Ringmaster Willy Whipsnade (played by David Williamson) introduces most acts, as well as the play. There are times Willy Whipsnade interacts with children from the audience by having them volunteer for a trick. Some tricks are made to fail on purpose to make you laugh, and some are made to make you hold onto your seat, some are just made to make you smile at how impressive they are. They are all made to make you applaud.
Here are some of the acts:
The Side Show has the wild and weird side of humans. The Side Show includes The Elastic Dislocationist, who is amazing and makes you gasp at her tricks;

Lucky Moon

does aerial ballet with a hoop and wows you;

Los Lopez are magicians on the high wire without a safety net, riding on a bicycle and doing tricks;

The Great Gaston is an extremely fast juggler that is brilliant with juggling tricks;

The Cycling Cyclone is a jaw-dropping cyclist, who can do great tricks on a bicycle.
    There are many more acts in addition to these that are as equally as breathtaking.
    The costumes are vibrant, fit for each part. They are as they are supposed to be and the costume designer deserves a round of applause as well.
    There is lively and spirited music that is in time with the performance, with a beat that you will keep on humming.
    "It is the showmanship that is the heartbeat of any circus," said Ringmaster Willy Whipsnade.
    This is a show for ages all around, fit for anyone with a sense of humor, and a thirst for amazing entertainment.
    This is a definite 'Yes' for a family, or just anyone. The play deserves a 10/10 stars.
    You totally have to take the day off when "Circus 1903" comes into town.  
–March 9, 2017–