New tree planted to honor Mrs. DiMascio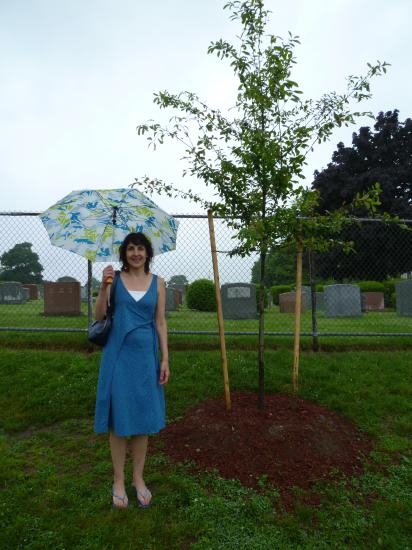 Anais M. , Cunniff Kids News staff reporter
June 14, 2012
On June 6, the town donated a tree to the Cunniff School in honor of late third-grade teacher Beverly DiMascio. An assembly was held at the Cunniff's playground, The Cunniff Cove.
A lot of people helped put this together, including Christopher  Hayward, Watertown's tree warden; Cindy Crimmin, Cunniff's principal; Debbie Munger, Mrs. DiMascio's colleague and best friend; and the Cunniff School Site Council.
Mrs. DiMascio's husband, Frank, and one of her daughters, Kristina Shannon, also attended the ceremony.
Mrs. DiMascio died April 7, 2011, of pancreatic cancer.
The tree itself is a Black Gum and will take about 80 years to become its full size of 60 feet tall and 30 feet wide, according to Mr. Hayward.
"I like to donate trees to schools because I want kids to know how important they are,'' he said. "It feels especially good to know I am donating it in honor of a teacher that so many people knew and loved."
Mrs. Munger worked with Mrs. DiMascio at the same grade level for 15 years and was her best friend.
Mrs. Munger said she thinks that The Cunniff Cove is a good place to put the tree because Mrs. DiMascio spent many years doing recess duty on the playground. She also said the tree will provide shade for Cunniff students, neighbors, and Mrs. DiMascio's new grandson who lives nearby and will one day be a Cunniff student as well.
"I think that the tree is a good way to remember her because a tree lasts forever and Mrs. DiMascio's legacy will, too," said  Mrs. Munger.
A plaque is being made to put in front of the tree that will state to whom it is dedicated and why.
In addition to the tree, Principal Crimmin gave Mrs. DiMascio's family a copy of Shel Silverstein's "The Giving Tree.'' John Quinn, Cunniff's technology teacher and librarian, put a dedication in the front cover of the book.
Sadly, I didn't know Mrs. DiMascio, but while doing the research for this article, I found out that she meant a lot to many people.
–June 14, 2012–