Allie Moss inspires with her music
Singer-songwriter takes break from her tour to talk about her new EP, A Great Big World, and Katy Perry's dog
Do you know Allie Moss?
Allie Moss is a singer and songwriter who is on a 10-city tour. She visited the Cunniff Kids News newsroom on Tuesday, March 21, 2017, before her show at Brighton Music Hall. The night before she was in Philadelphia.
She brought her guitar. There were stickers all over her guitar case from the places she had been.
"I've had this guitar case for about eight years, and so all of these stickers are from places I go," she said. "Whenever there's a sticker, I usually get one, and when they wear off after a while I put another one on top of it. It's easy to spot, right?"
"Young Love" by Allie Moss, performed in the Cunniff Kids News newsroom on March 21, 2017, in Watertown, Mass. from Cunniff Kids News on Vimeo.
Allie said she wrote her first song when she was 11, but she stopped performing when she was 11 or 12 because she had stage fright.
"I've always loved singing, but when I was a teenager I was mostly into athletics and academics, and I got injured, and in the time I would usually be out practicing my sport I decided to pick up a guitar and start writing songs and playing it," she said. "It was kind of fun for me to make something out of nothing. I got to create and that was very inspiring to me."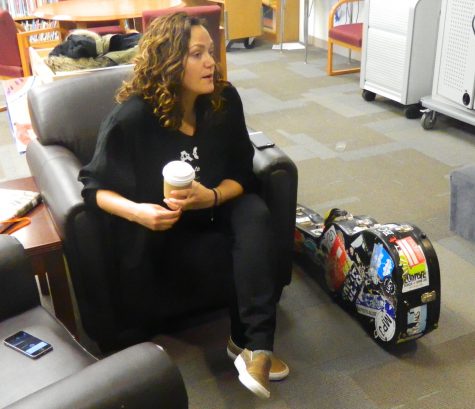 She said her first instrument was a guitar. She also plays the ukulele and the bass guitar. She said she mostly writes on guitar or piano.
"Growing up I listened to everything from choral music to pop radio. I like everything in-between," she said. "I like Sia. She's one of my favorite pop artists."
She said she grew up in New Jersey, but just moved to Nashville. She did not go to a music school. She said she took private lessons from a guitar teacher for five years.
"My tip [to young people] is to start — just start," she said. "Ask someone if you can borrow a bass, or just find an instrument that you can just play on, and maybe get a few lessons. Practicing is where it's at."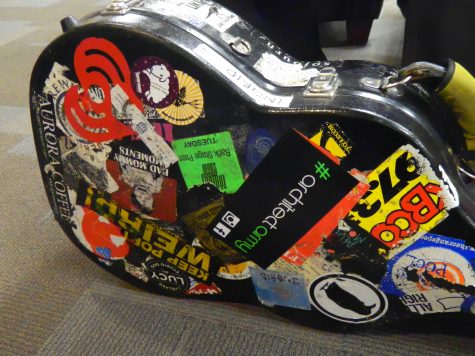 Allie had an album called "Late Bloomer" that came out in 2011. She just put out an EP with five songs on it called "The Other Side." She calls herself a pop singer-songwriter.
"Because you can find me on the Internet, it seems that I'm famous, but I'm not famous," she said. "What I am is a professional, so what I do for a living is make music and write songs and sing. But I can definitely go to the supermarket and nobody's going to bother me. But maybe at a show they would recognize me and say hi. Walking down the street, nobody knows who I am."
She said she has met Stevie Wonder and Taylor Swift.
"I've gotten to do a lot of exciting things and meet celebrities. I met Katy Perry's dog — but not Katy Perry," she said with a laugh. "My friend is her personal assistant."
She said the main person she works is her friend Ingrid Michaelson. The band she is on tour with is A Great Big World. They have a song called "Say Something" that Christina Aguilera sang on.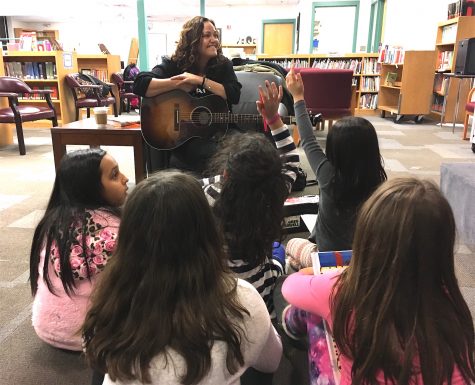 Allie explained what it was like to be on tour. She said she was lucky because there were only five people on the tour. She travels on a tour bus.
"It looks very big from the outside, but inside it feels smaller — like a camper. Have you ever been inside an RV? It's like that," she said. "It's a very comfortable way to travel because you have your stuff and you're home on the bus. You have a refrigerator … It's comfy and cozy. And you have your belongings with you, and you sleep while the bus is driving and you wake up in a new city."
She said she is lucky because she gets to see her family quite a bit. She also likes the people she is on tour with.
"My mom and dad came to the show in Philly last night, and I have some friends coming to New York," she said. "That's fun part of touring is that I have friends in different cities, so I get to see them.
"When I'm traveling for long periods of time, the people you tour with, you can become very close friends with them. They become like a little family, a little touring family.

"Bet My Life" by Allie Moss, performed in the Cunniff Kids News newsroom on March 21, 2017, in Watertown, Mass. from Cunniff Kids News on Vimeo.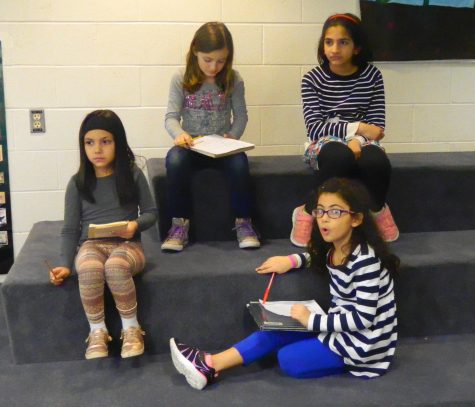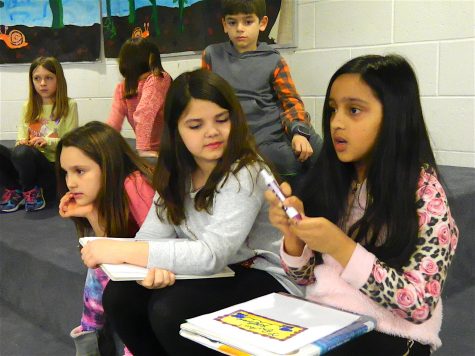 –March 28, 2017–