Go behind curtain with young cast of "Annie"
Broadway class at Boch Center/Wang Theatre in Boston through May 21, 2017
"Annie"! Since 1977, when it debuted on Broadway, people have loved it. Now it is in Boston at the Boch Center/Wang Theatre.
Gilgamesh Taggett plays Oliver "Daddy" Warbucks, Erin Fish is Miss Hannigan, Amanda Swickle is Pepper (and the alternative for Annie), Amanda Wylie is Tessie, Katie Wylie is Duffy, Bunny Baldwin is Molly, and the star of the show, Angelina Carballo plays Annie!   
"Acting is like a second personality" said Amanda Swickle, Amanda Wylie, and Katie Wylie during a news conference May 10.
The "orphans" say that their school work, finding good food, and sleeping is hard. Their school work and sleeping is hard because when they get back to their hotel room really late after rehearsal then they have to do lots of school work and they just want to sleep. Then the next morning they have to get up really early. So they don't get their full amount of sleep.
Erin Fish said that all the sets and props make you feel like you're really in that scene.  
All the actresses said that it is hard to act, but once you get into the character's position it is not as complicated.
I suggest that you go to the new and improved production of "Annie" and see how easy they make acting look.
(For more information about "Annie," go to the Boch Center/Wang Theatre website.)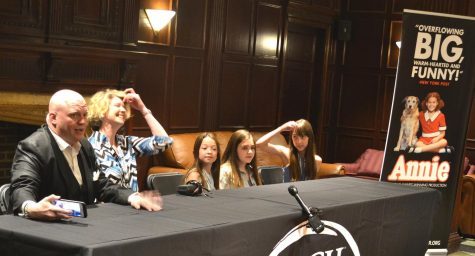 –May 16, 2017–