Heartwarming "Annie" arrives in Boston
It's a hard knock life for all of us, especially for the orphans of the Hudson Street orphanage in the musical "Annie."
This particular musical has come to Boston, at the Boch Center / Wang Theatre until May 21, 2017. The summary of this show is that an orphan named Annie meets a millionaire — no billionaire! — Oliver Warbucks who helps her try to find her real birth parents. But when false parents try to get a hold of her, things start to go crazy.
Most of us have heard of "Annie" or have hummed the songs many, many times, but have most of us seen "Annie" on stage?
The current production of "Annie" stars Angelina Carballo as Annie. The orphans, Miss Hannigan, and all the other characters bring a musical favorite into life in front of your eyes. This musical is just right for the family, but it might have some minor language. It is recommended for kids 6 and older, because kids younger most likely wouldn't understand the historic piece of the story and the complicated plot.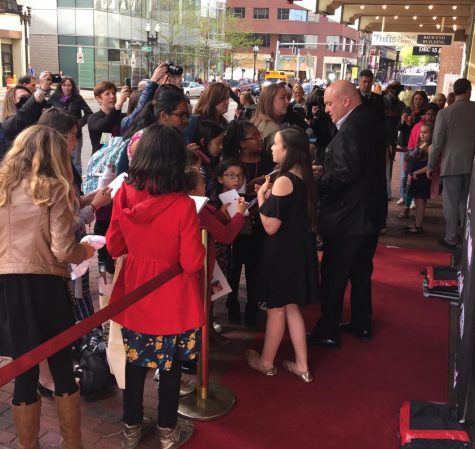 Erin Fish plays Miss Hannigan. Her opinion about playing the "bad guy"' is that "bad guys move the story forward."
Amanda Wylie, Katie Wylie, and Amanda Swickle all play orphans, but when their characters take a break, "Animal Jam" is what occupies the talented actresses backstage.
They also said that it is amazing to have the spotlight on them or to have a solo.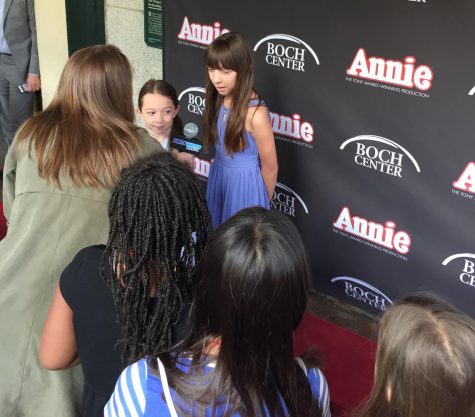 The young actresses were asked for advice for people who want to be actors, and they said to believe in yourself. It's not just talent, it's that you need to try hard, too.
All in all though, "Annie" deserves to celebrate its 40th anniversary joyfully! Annie is a great show that is only available in Boston until May 21, so get your tickets now!
   (For more information about "Annie," go to the Boch Center/Wang Theatre website.)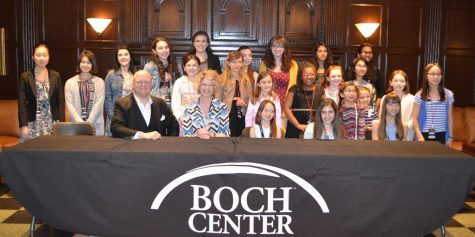 –May 17, 2017–