The (delicious) scoop on Cabot's
Newton restaurant has been serving tasty ice cream and food for nearly 50 years
I scream, you scream, we all scream for Cabot's ice cream!
There is only one Cabot's Ice Cream in the entire world. It's right in Newton on 743 Washington St. When you're in the mood to have a good scoop of some cold and delicious ice cream, frozen yogurt, or even meal, then Cabot's is the place to go.
Joe Prestejohn, the owner, said that the mayor, governor, and even Olympic gymnast Aly Raisman have come to Cabot's.
Joe likes scooping ice cream, serving customers, and seeing everyone smile.
"It's a fun business," Joe said.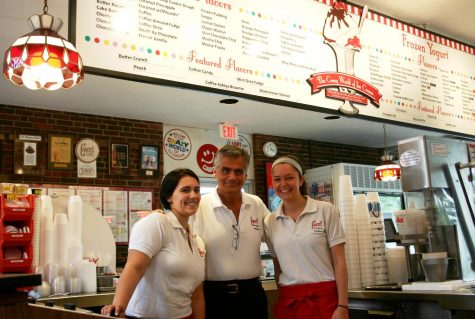 He said his favorite part of his business is talking to customers and finding out what they like. He kept asking reporters what ideas they had for new ice cream flavors. One reporter shared that she went to a different ice cream place, and she had strawberry and her sister had Oreo. He said, "That would be a great combination for a flavor together!"
Most of the flavors are inspired by customers with a little bit of tweaking and thinking. In total, Cabot's has 48 ice cream flavors and 40 frozen yogurt flavors. Joe said the hardest thing about making an ice cream flavor is the clever name to make it unique.
Joe started working at the age of 11. Joe used to come to work for his family business whenever he could. His family was always in the restaurant business.
Joe's parents had owned a restaurant in Boston, which was half bar and half restaurant. Unfortunately, the building burned down. Because of the fire Joe's parents had to find a different place.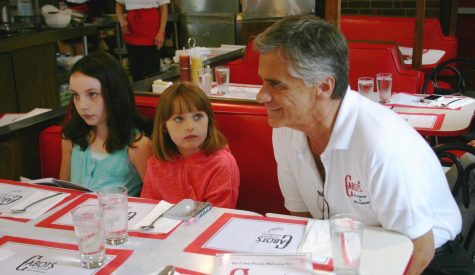 Since their last business was a restaurant, they wanted something a bit more light. The reason that his parents kept the business to food and ice cream is because they didn't want alcohol and other drinks served. So they decided on ice cream and Cabot's was opened in 1969.
The ice cream at Cabot's comes from Richardson's Farm in Middleton, Mass. The ice cream arrives every Tuesday and Friday. Joe said this ice cream is soft and yummy.
Joe's favorite ice cream flavor is coffee Oreo. The most popular ice cream flavor is vanilla. After that is chocolate, then strawberry.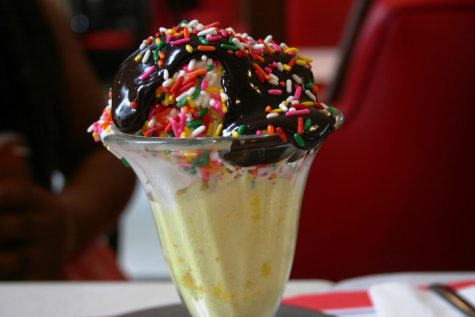 Cabot's also has seasonal flavors. Watermelon sherbet is one of this season's specials. It looks like watermelon bubblegum with a touch of sweet watermelon flavor. It feels like ice cream on your tongue but not as heavy, cool and refreshing.
The most popular item is Danielle's Choice and it is named after Joe's daughter. It has peanut butter cup with Reese's ice cream, topped with peanut butter fudge, which is covered with marshmallow and Reese's Pieces.
The most popular frappe is white and black, which is vanilla ice cream with chocolate syrup.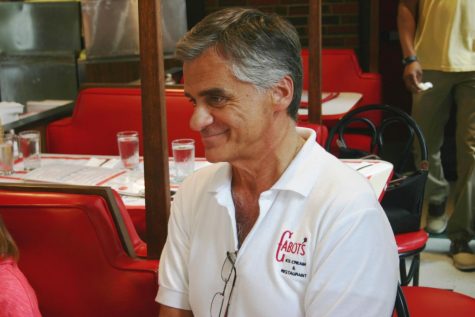 Reporters asked what was the secret to thick frappes. Joe shared that you have to use a lot of soft ice cream, not just any kind of ice cream from the supermarket. It has to be good ice cream that doesn't have a lot of air in it.
Cabot's is not just a place for ice cream, but it's also a place for food, like burgers, macaroni and cheese, and hot dogs for lunch or dinner. They also serve breakfast.
Joe said 60 percent of Cabot's business is ice cream and such, and 40 percent for food.
The staff number right now at Cabot's is a little over 50 right now. On a usual schedule, Cabot's opens 8:30 a.m.-11 p.m. on Fridays and Saturdays, and 8:30 a.m.-10 p.m. on Sundays, Tuesdays, Wednesdays, and Thursday. But you might be wondering, "What about Mondays?" Well, Mondays the restaurant is closed.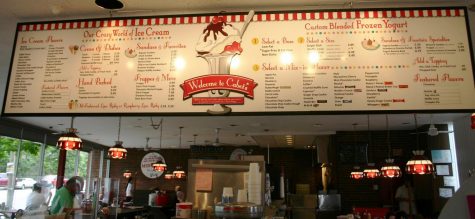 According to Joe, spring and fall are when Cabot's has more customers. Although summer is a great time to get some tasty Cabot's ice cream, most people go away for the summer.
Cabot's doesn't do much advertising. Instead, Joe said his customers bring their friends, their friends bring their friends, and they keep coming back because they like the food and the ice cream is yummy, yummy, yummy.
Joe shared that instead of spending money on advertising, he likes to give the community money or even ice cream. You can see him at the Fourth of July event at Newton Centre Playground from 10 a.m.-noon for a free scoop of Cabot's ice cream!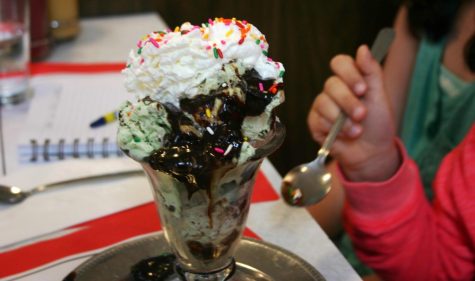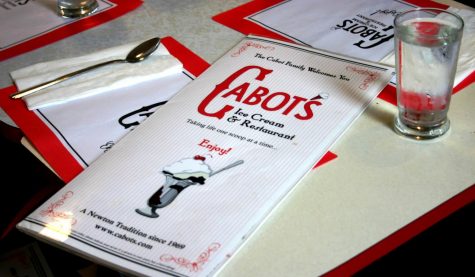 –July 3, 2017–