An electric night of music at a cappella semifinals
Birdland Avenue, Fermata Town, Martini Glass A Cappella, Similar Jones, The Cycle, Women of the World, and 6Mix competed for chance to sing at finals at Carnegie Hall
The 2017 International Championship of A Cappella Open Semifinal of New England took place at Berklee Performance Center on Saturday night, July 29.
Seven groups competed. The winner of the event advanced to the finals on Sept. 23 at Carnegie Hall in New York City. The seven groups were 6Mix, Birdland Avenue, Fermata Town, Martini Glass A Cappella, Similar Jones, The Cycle, and Women of the World.
Women of the World won the event and advanced to the national finals. Similar Jones came in second place and Fermata Town came in third.
The Berklee Performance Center was packed with families, friends, and all a cappella lovers.
Each group was allowed to be on stage for 12 minutes.
Billy, Amanda, Siobhan, Francesca, Matt, Pat, Kevin, and Alex of The Cycle were asked, "Do you have fun or do you get nervous when you go on the stage?"
They said, "We get to have fun but be nervous at the same time. We could say a little bit of both, but definitely more fun."
They also said they were very excited about the semifinals: "Performing as a group and seeing all other groups being on the same stage is very special and important for us."
When they were asked if they were an instrument what instrument they would be? As a group, they all agreed on a electric guitar because they are loud and electric.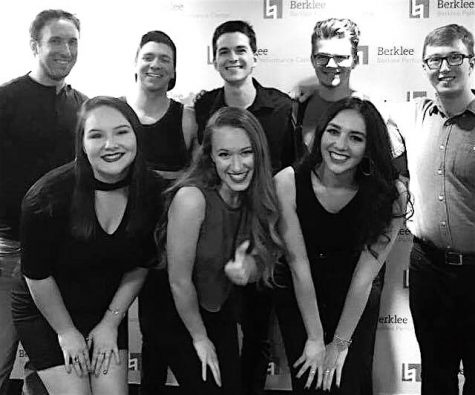 –Aug. 10, 2017–