Misty Copeland: "The stage is where I feel safe."
Ballet dancer, author shares her story at JFK Library
    On Monday night, Aug. 28, 2017, Cunniff Kids News reporters had the chance to meet Misty Copeland at the JFK Library and learn more about her life.
    Misty Copeland is a famous ballerina. She started dancing at the age of 13, which is unusual for a professional dancer. Dancers typically begin training at much younger ages so that their bodies learn muscle memory. Misty said that she did not have the opportunity to dance at a young age.
    Misty didn't even take her first dance class in a dance studio. Her first class was at a Boys and Girls Club in California. The teacher of that class noticed that she was very talented and could move easily.
    At 13, Misty was hungry to learn more about dance. Her style of learning was to see and copy the movements of the teacher. She was not trained in technical ballet at first. She said this helped because her body was flexible and she could easily learn new styles as she moved further in her career.
    There were things that the teacher did not know about Misty, even though she really knew her as a dancer. Misty traveled two hours from home to get to her dance classes at the Boys and Girls Club. Misty kept this a secret from the teacher because she lived in a one-room motel with her five siblings. She had very little food and she didn't want the teacher to know.
    At one point, Misty's mother told her that she could no longer dance because it was too far and her mother didn't see that dance was important. Misty's mother wanted her to help more at home. Misty told her teacher that it would be her last dance class and the teacher felt very sorry for her and insisted on driving her home. 
"
Dancers have to smile and show they are happy, even during injuries. They can't grunt like a football player in pain.
— MISTY COPELAND
    At first, Misty didn't want to accept the ride. The teacher insisted. The teacher finally took her home and that's when she found out Misty was living in a motel and didn't eat enough. The teacher was surprised that Misty didn't tell her about her home life.
    When the teacher said goodbye, she went halfway down the street and realized that she could help Misty. She turned around and went back to the Copeland's motel. After she spoke with Misty's mother, the mother agreed to let Misty live with her teacher so that she could continue dancing ballet. Misty shared that if her teacher did not turn around for her, she would not be a professional dancer today.
     Misty Copeland shared that she was born touching her toes and always wanted to move. Dance and music were escapes from her crowded life at home. Her teacher not only saw her as a talented ballerina, but also someone that could change the culture of ballet. This was because she was one of the first African-American dancers in two decades to be bound to be a principal dancer in New York City.
     Shortly after moving in with her teacher, Misty was offered a scholarship to do a summer dance program in New York City. After this opportunity, she had many more dance offerings. There were times when her mother still wanted her to give up dance and move home. However, Misty was motivated to dance. When she was 17, she moved to New York City to be a part of American Ballet Theatre.
     Misty didn't realize how different she was in the ballet world until someone pointed it out to her. Different in the way of her skin color. There was a time when she remembers the company asking her to wear lighter makeup for "Swan Lake." In dance, choreographers and costume designers want people to look the same. Costumes and makeup are often uniform to achieve this. Misty asked the company if she could wear makeup, but keep it her own skin color. The company said simply, "OK." She shared that it is important to speak up for what you think is right. If you don't ask, sometimes you can't be helped.
     Misty is not only an accomplished dancer, she is also an author. She wrote the children's picture book "Firebird". Misty was the principal dancer in this ballet, as the firebird. She mentioned it was one of the costumes that she hated because it had a long tail and a heavy headpiece, which made it hard to dance in. 
"
Healthy and fit will make us the best dancers we can be.
— MISTY COPELAND
     During this ballet, Misty suffered a major fracture in her tibia. She danced for six months on this injury because she wanted to prove she could be a principal dancer. After three performances, Misty had to pull out of the ballet. When Misty talked about her injury she said, "Dancers have to have mental strength. They must go on stage no matter what your body feels. Dancers have to smile and show they are happy, even during injuries. They can't grunt like a football player in pain."
    Misty recently published "Ballerina Body." There are four parts to this book: Mind, Motion, Meals, and Mentors. With Misty, we learned that ballerinas have to do more than just dance to take care of themselves. They must eat healthy and take care of their bodies in other ways so they are strong to dance. Dancers are athletes that need to fuel their bodies.
    "Healthy and fit will make us the best dancers we can be," she said.
    Misty Copeland is 34 years old. As Misty is getting older, she enjoys performing in the story-like ballets. She shared that the arts and dance give structure to her life.
     "The stage is where I feel safe," she said.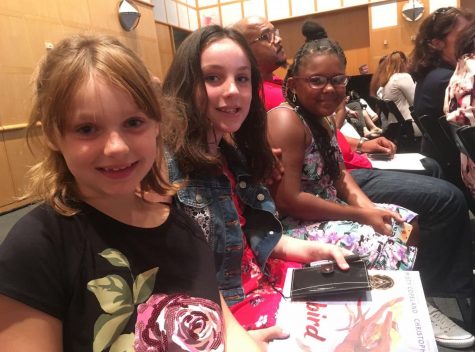 –Aug. 29, 2017–