Screams of delight at Cunniff haunted house
Annual Halloween party at Cunniff Elementary School set for Friday, Oct. 24, from 6:30-8 p.m.
     This year at Cunniff Elementary School, there is going to be a Halloween party on Oct. 24, 2014, and the most scary part will be the haunted house.
     The Halloween party will be open from 6:30 p.m. to 8 p.m. Anyone can wear a costume. No weapons, wands, or accessories (like hockey sticks, wands, and light sabers) will be allowed.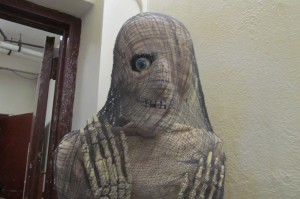 To get into the party, people are being asked to bring non-perishable food donations to the Watertown Food Pantry. Cash donations are also accepted.
     If people want to go into the haunted house, it will cost $1 per person per visit.
     A lot of students are excited and wondering what the haunted house will be like this year. Some reporters visited the haunted house this week while it was being set up.
     The haunted house is located in the basement and it is wicked! It could scare your pants off!
     On the way down the stairs, we saw mummies with two arms crossed over each other. We also saw a shrunken head hanging on the ceiling! It was a fake shrunken head, but I still nearly had a scare like a heart attack. Even my 6-year-old brother, who always insists he's not scared of anything, said to me that nearly scared him to death.
     On a wall in another room was hanging many bats! In one corner, a vampire with long black hair and a half of body was looking at us! And in another corner was a monster.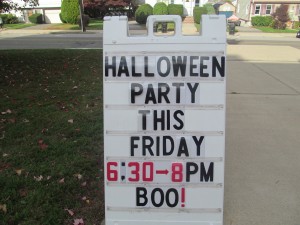 Adrianna B.

     There was a place titled  "Ghouls just wanna have fun" and there were skeletons laying on beds with a magazine. There was candy blood. There was packed-up brains.
     There were other rooms, too, but we don't want to give away any surprises!
     This is the scariest place I've ever seen, so I think I will have a nightmare for weeks.
     Want more? Go to the Cunniff Halloween party and haunted house on Friday, Oct. 24!
–Oct. 23, 2014–